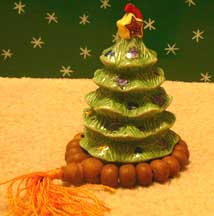 Today, more than ever, we are showered with media messages vying to convince us that gift-giving is all about buying more and buying bigger. I'll never forget the sobs that came from a niece of mine one Christmas morning when she had finished unwrapping the two gifts my husband and I had given her, only to see that her sister had an extra package from us to open. She felt cheated, even though we had carefully spent equal amounts of money on them both.
As adults, we may still pull out the measuring stick when it's time to exchange gifts. Not only that, but we tend to think that "giving" happens when we hand over something that is wrapped and tied with a bow and ribbon.
Yet take a moment and think about the times, as a child or adult, when you felt most happy, joyful, or at peace. Were those special times in your life really defined by how much money someone spent on you? Or was it the attention you received or the intimacy and connection you experienced that made you feel exuberant?
The gift that matters the most is the gift of your attention, your time—your presence. That's what can turn holidays and celebrations into feasts of the heart.
Here are a few ideas to help you tap the power of presence as you give your gifts:
The present of presence.
Instead of a material gift, why not devote some time, one on one, with the special people in your life as your gift? Enjoy a musical event together or a long lunch or a fun activity—just the two of you. When you're with the other person, practice being really present, avoiding distractions that are so easy to succumb to. Be sure to turn off your phone or Blackberry and let yourself be fully engaged.
The gift of listening.
If you've had a touchy relationship lately, let your present be this: Don't talk. Listen. Try asking questions that show you truly want to hear what the other person has to say (like "What do you need from me right now?"), and then resist the urge to interrupt.
The power of the generous heart.
Make a date to do something the other person enjoys, even if you don't. If you know your friend, partner, parent, child, or spouse likes to listen to choral music or attend a football game or watch a silly movie, even though it absolutely bores you, do it anyway this once. Throw yourself into the experience. After all, it's a gift. It's not about what you're doing; it's about what you're experiencing together and how it makes that person in your life feel.
The gift you give yourself will help others.
"What do I want?" That's not something we often ask ourselves at Christmastime when we're busy taking care of others. Try giving yourself something in the middle of all the busyness. If you give to yourself—even if it's just a little precious time alone, permission to say no to attending one more holiday party, treating yourself to a movie no one else wants to see with you, or even wrapping up a gift you buy for yourself and putting it under the tree—you'll be doing everyone in your life a favor. You'll be a much happier person to be around when you honor yourself!
Try one or more of these tips and share your results with us . . .